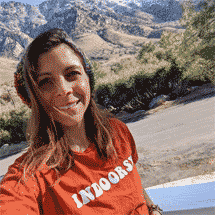 By Isis Darios

| Published in September, 2019
G'day! Kia Ora! That's how you may hear people greet each other in Australia and New Zealand. I'll refrain from calling this region the "Land Down Under," mostly because it's cliché, but also because, since hoteliers and hosts in the region have been introduced to Cloudbeds, they've been coming out on top.
Market Manager (and mean lasagna maker), James Spicer, has spent the last 10 years working in Australia's hospitality industry. Now he's sharing his experience, expertise, and love for Cloudbeds. 
What kind of hospitality Experience do you bring to this role? 
Before Cloudbeds, I had a variety of roles all over Australia. I first arrived as a backpacker in 2009 with a working holiday visa, and during the next five years I worked in a variety of accommodations, managed travel desks, and hosted tours on a Great Barrier Reef dive vessel. 
My most recent role was in the Whitsundays as a Sales and Marketing Manager, helping to manage a fleet of vessels for a tour and marketing company in arguably one of the biggest travel hot spots in Australia. My role involved a fair amount of business travel, training travel staff on the Whitsunday region and hosting agent travel famil's. I would also go to many trade shows, such as ATE, meeting with buyers from all over the globe.
We had thousands of people checking in each week, multiple payments to process, tickets to claim, and different cultures to engage with, so we experienced a lot of the same problems as a hotel or hostel does. I think that that's probably a good platform to bring to the role because I know this, the tourism industry and its struggles, quite well. 
Why were you drawn to Cloudbeds? 
While working in the Whitsundays, we were constantly looking for ways to improve guest satisfaction and booking activity. We'd have many programs that weren't talking to each other, and it was just, you know, having to do date holds everywhere. Agreements made would involve hours of admin and back-office work, it was tedious and time-consuming work.
On the touring side of things in Australia, the systems that are in place are quite dated compared to anything like the Cloudbeds system. So once I saw Cloudbeds, it was like…this is exactly what I've been crying out for while trying to find something that would solve these issues we had. To see how many problems Cloudbeds resolved with a single click or a third-party integration was pretty staggering. It was probably 10-15 years in the future compared to some of the systems we were using.  
Which features are potential customers most excited for? What's your favorite Cloudbeds feature and why?
Having it all in one login and the interactiveness of the calendar, the drag & drop, and split folios. There are so many little nifty tools that are kind of like "micro-drop" moments when I'm in a demo with a client online. They're just like, "how did that happen?" You can see that they're already figuring out how Cloudbeds is going to save so much time for them. It all comes together with all the simple features and third-party integrations that we have – the integrations to payment processors, accounting systems, guest check-in and review software – those are pretty fantastic. 
For me, having our own revenue management tool, PIE. That's pretty cool. I had not seen anything like that before where you can automate dynamic pricing with set rules. And the Cloudbeds Groups module. I think that's very exciting for a lot of properties here in Australia that work with group and events travel– to be able to offer them their own portal where they can just drop in bookings. A lot of properties spend so much time receiving an email and then having to upload all those guests in the group. That's simply hours a week saved so the Groups module is really, really cool for a lot of properties here.
Australia received 9.3 million visitors last year and that number is projected to surpass 10 million in 2019. How can hospitality operators prepare for this increase in tourism while still keeping their guests happy? 
Automation is key! The aim is to reduce the boring check-in procedures and give guests more time enjoying their holiday – and the product. Having a mobile-friendly, pre-check-in app with a mobile keyless entry system, plus a guest communication program – that's a great combo! These nifty integrations can make check-in fun for guests while also freeing up your staff to engage with guests in other ways, without being in front of a computer screen. It should be simple and it is simple. 
Also, having a PMS that lets staff breeze through processes with no delays – with a back-end integration for the accounting team, along with automated revenue management alerts to HO. Streamline everything, cut the fat, spend more time with guests and on new projects for an ever-evolving clientele.  
What would you say to a potential customer who's still on the fence about switching to Cloudbeds? Give us your best closing pitch! 
An average property that switches to Cloudbeds saves themselves 8 hours a week in the front and back-office admin and increases revenue by 15% within the first 3 months. What would an extra couple of hours in saved labour and a conservative 5% increase in revenue look like for your business?
If you want to save money and make your and your team's life easier, surely it's worth taking a little look. And it doesn't hurt because it's a month-by-month contract so if you don't like it, you can leave. But we have around 24,000 properties on Cloudbeds, so we've got to be good at keeping people happy or else they would just up and leave. 
What's the coolest property you've stayed at? 
This is unfair! There are so many! However, the last time I was up in Cairns, the team in Mad Monkey – Calypso blew me away. They were just so welcoming and clearly happy to be there at work. The property and the people have such a fun vibe, the rooms overlook the pool next to the bar, what more could you want!
More Reservations and Happier Guests is our Mission at Cloudbeds. How would you complete the following sentences:  
To get more reservations, you need to: have an effective distribution strategy, be on key billboards (OTAs) and have an effective and mobile-responsive booking engine on your website and social media.
For happier guests, you need to: make time to be more personal. So utilizing as many third-party apps to automate your business as much as possible so you have more time to engage with them.
Cloudbeds has a remote-first work philosophy that gives employees the freedom to work from home or anywhere in the world. Have you taken advantage of this unique opportunity yet? Tell us about it. 
Yeah, heaps! This isn't the first time I've worked remotely, but it is my first full-time remote role. Cloudbeds gives you the opportunity to be your own boss, sure you have a responsibility to complete the job and tasks at hand, but I'm either working from home or I pack my laptop and find a new cafe or park to work the afternoon. On an international level, I've two weeks working remotely in Bali coming up in November and a week in the Philippines in January. That's mad! 
Last but not least, what do you like to do for fun when you're off the clock?   
I like to cook. If I wasn't in Sales and Marketing in the hospitality industry, I'd like to think I would have been involved in a restaurant or some sort of cafe. I love hosting parties and having people around for dinners and stuff like that. I make a mean lasagna.  
Grass looking a bit greener? Let's chat! – Book a FREE demo with a Market Manager in your area today.