It's hard to believe that just a few decades ago, most hotels ran on manual systems. Today, lodging businesses of all types and sizes rely on software to efficiently manage front desk operations and provide a seamless guest experience.
The challenge now is selecting the right software solution when there are so many to choose from – and not all are the same. To help you navigate the options, here we'll look at the key functions and benefits of front desk technology, share some of the best software available in the hospitality industry, and show you what to look for when shopping for the perfect management solution for your property.
What is hotel front desk software?
Hotel front desk software is the technology used by properties of all types, including hotels, hostels, motels, vacation rentals, B&Bs, and campgrounds, to manage tasks and record-keeping related to guest stays.
By automating functions normally performed manually by employees, software helps accommodation operators run their day-to-day businesses more efficiently and see real-time data and information to improve decision-making.
Typically, the property management system (PMS) acts as the central platform, facilitating check-in, management of guest profiles and room inventory, and checkout. Additional components such as a booking engine, CRM, channel manager, point of sale (POS) software, and revenue management systems may be integrated with the PMS to form a unified system.
Other third-party tools and services may be integrated via an application programming interface (API). This expands the number of functions that can be performed and allows data-sharing across applications.
How do modern front desk systems work?
The basic functions of front desk software are relatively simple. When a guest arrives to check in, the front desk agent pulls up the hotel reservation in the PMS. The reservation may have been entered directly into the PMS or through the hotel's reservation system, booking engine, or channel manager. The reservation will contain basic information about the guest's stay, including the room type, room rate, and departure date, as well as guest profile information such as contact details, credit card, and previous stays.
Up until recently, the typical front desk check-in would go like this: the front desk agent would search the PMS for an available room, check in the guest, and then program their key. During the stay, any room charges, such as parking and breakfast, would be posted to the guest's account. Upon checkout, the front desk would confirm the charges with the guest, process the payment, and print a copy of the folio.
Today, all kinds of software solutions are available to automate workflows and improve front-office management, like guest self-check-in, keyless room entry, and guest messaging, just to name a few. In the back office, hotels have property management software applications to facilitate data processing, reporting, and staff scheduling and notifications, as well as numerous other functions.
In this clip from the 2023 State of Independent Lodging & Travel Trends webinar, Nuria Bernat, Director of Operations at Sweet Accommodations, explains how digital check-in is helping her properties increase efficiency while enhancing the guest experience.
5 key benefits of front desk software
Front office software growing at a rapid rate, and for good reason. Here are just a few of the advantages:
1. Greater efficiency
Manual tasks can be time-consuming and clumsy, leaving guests glancing at their watch and wishing they had chosen a more tech-savvy property. With front desk software, hotel staff can easily check room status' and perform check-in and check-outs fast (or guests can choose to bypass the front desk completely), leaving guests with more time to enjoy their trip.
2. Fewer errors
Manually calculating room charges and entering credit card details is not only time-consuming, but it can also leave the hotel vulnerable to costly mistakes and fraud. With an integrated payment processing system, this process is automated. You can initiate payment right from the guest folio for the specific amount, and the terminal will immediately take payment, adding that exact amount back to the folio. No mistaking 6 for 9s or forgetting a zero when typing in the amount.
3. Better service
By automating time-consuming and repetitive tasks, front desk software frees up employees to focus on providing more personalized and memorable guest experiences, as well as generating more revenue for the property.
4. Lower costs
With a cloud-based PMS, hotels don't have to purchase expensive hardware and software that quickly become obsolete. Instead, they pay a monthly subscription fee, sharing the costs with other businesses.
5. More time for strategy
As any night auditor will attest, consolidating data and reconciling accounts is a tedious and time-consuming task. When data processing and reporting are automated, staff have more time to analyze the data and devise strategies for improving the results.
The modern hospitality platform: more than just front desk software
For lodging operators, one of the challenges of having more technology in the front office is dealing with an increasing number of vendors, data sources, and interfaces. To make life simpler, more hotels are moving toward a unified platform model. This model features a fully integrated suite of core applications provided by one vendor, including a PMS, payments system, revenue management system (RMS), channel manager, and other modules. For additional features, hoteliers can browse a marketplace of third-party apps and services curated by the PMS provider.
Because these platforms are cloud-based, front desk staff can access them from anywhere with an internet connection. Maintenance and upgrades can be performed remotely, meaning less downtime, fewer outages, and more frequent updates. Unlike legacy PMS platforms, cloud-native PMS platforms are built with open API standards, making integration with other applications easier and more cost-effective. Data is consolidated into a single guest profile, and employees have only one system to learn.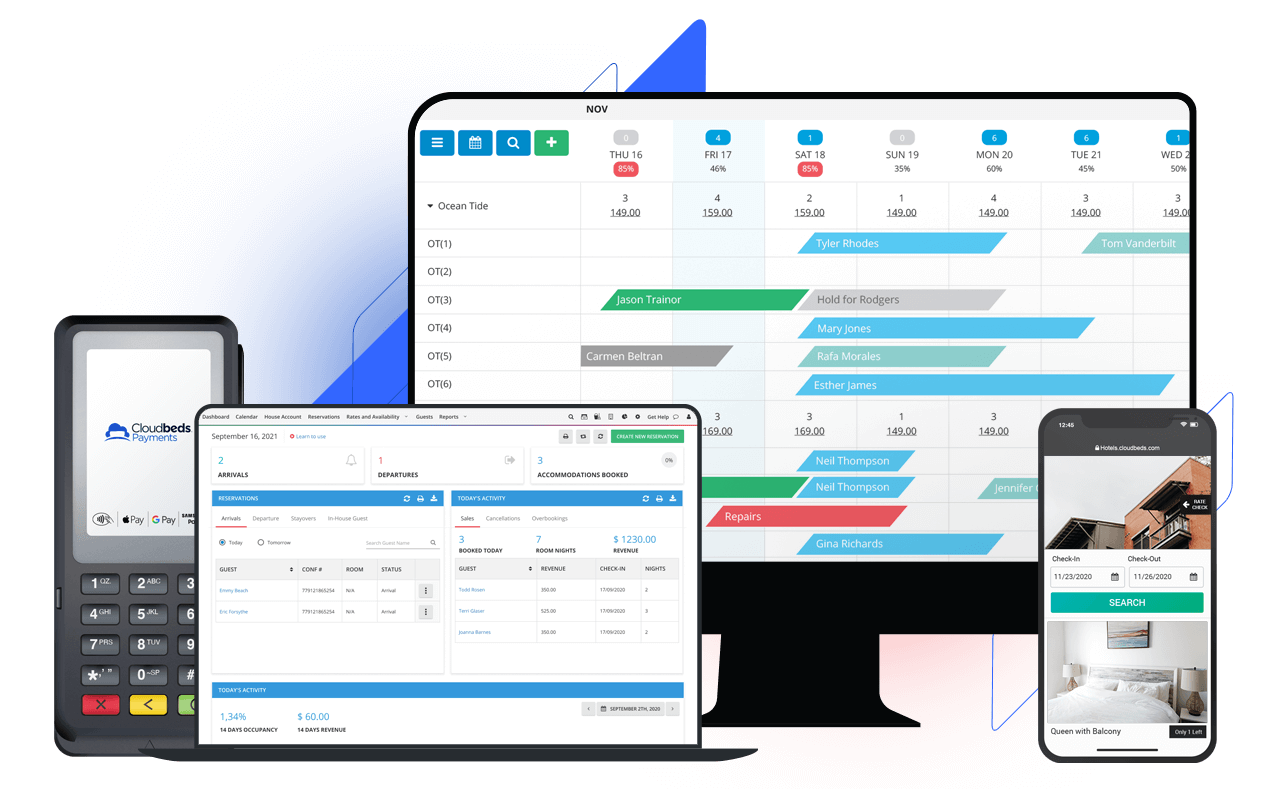 Key features to look for in hotel front office software
When searching for the ideal software solution for your property, you'll make life easier for you and your team if you prioritize the following features:
A cloud-based, centralized platform with core functions fully integrated into one unified system
An open API allowing for easy integrations with third-party software
A built-in online booking engine and channel manager
A flexible system that can be customized to fit the needs of your property and can grow with your business
Advanced reporting and analytics features
Guest-focused solutions that improve communication and engagement and allow guests the option of self-service
A modern payment processing solution that enables contactless payments and easy account reconciliation
Readily available training resources for quick onboarding and a customer support team that understands the unique needs of the hospitality business
A subscription pricing model that allows you to avoid costly upfront purchases of hardware and software
Top 10 hotel front desk software systems
The following front desk systems offer the above features and much more:
Cloudbeds
The Cloudbeds Platform is built with all the tools you need to run and grow your business so you can focus on guest satisfaction. The cloud-based hospitality management platform is revolutionizing the industry with a suite of unified tools that include a PMS, channel manager, booking engine, revenue management tool, payment processing with integrated terminals, guest engagement solution, done-for-you digital marketing services, and Marketplace of third-party apps. See below for details.
Find out how Cloudbeds can help you break free of manual front desk systems.
Eviivo
With seven headquarters across the globe, Eviivo Suite is an integrated property management system featuring an online booking engine, channel manager, guest manager, performance manager, and numerous other features.
Frontdesk Anywhere
Frontdesk Anywhere's cloud-based hotel management software is designed to reduce costs, streamline operations, and increase revenue. Solutions include a PMS, booking engine, channel manager, payment system, and revenue management system.
LittleHotelier
LittleHotelier's hotel management software is built especially for small properties, offering an array of solutions that include a PMS, mobile app, booking engine, and channel manager, as well as an app store offering third-party integrations.
Mews
Headquartered in Amsterdam, Mews is a cloud-based software company offering a suite of fully integrated products, including a PMS, booking engine, RMS, and payment system, as well as a marketplace of over 600 third-party apps and integrations.
ResNexus
Based in Utah, ResNexus is a cloud-based property management system that offers a number of products, including a reservation system, payment processing, and web booking engine, as well as marketing services and integrations with third-party vendors.
RMS Hospitality
Headquartered in San Diego, RMS Hospitality is a fully integrated, cloud-based reservation and property management system offering an internet booking engine, channel manager, RMS, and more than 100 third-party integrations.
RoomRaccoon
Toronto-based RoomRaccoon is a cloud-based hotel management system built for independent properties, featuring a PMS, online check-in, accounting automation, and an upsell solution, as well as integrations with a variety of third-party apps.
Hotelogix
Headquartered in Singapore, Hotelogix is cloud-based PMS designed to simplify hotel operations featuring a web booking engine, channel manager, and an app that works from your mobile device.
innRoad
Based in New York, innRoad is a cloud-based PMS designed to boost revenue, increase bookings, and improve operational efficiency. It includes reservation management, a booking engine, a channel manager, credit-card processing, and revenue management tools.
Why choose Cloudbeds?
With so many choices, why is Cloudbeds your best option for front-office software? Here are just a few good reasons:
A user-friendly, cloud-based PMS with built-in reservation management capabilities, drag-and-drop calendar, powerful reporting and analytics, and email automation.
A channel manager providing access to hundreds of online travel agents (OTA) and GDS', including Booking.com, Expedia, Vrbo, Airbnb and other similar sites, with zero added commissions to increase occupancy.
A commission-free booking engine to help you convert more website visitors and grow direct bookings by 20% on average.
A pricing intelligence engine featuring a rate manager, rate shopper, and automated alerts, along with integrations with leading RMS providers.
An integrated hotel payment processing solution with a built-in payment gateway to make online reservations and payments quick, easy, and secure.
A guest engagement solution to enable guest messaging with a unified inbox, automated messages, and a translation service at your fingertips.
A done-for-you digital marketing service developed specifically for lodging businesses featuring website design, search engine marketing, listings management, and metasearch.
An integration Marketplace featuring dozens of third-party providers offering best-in-class apps, tools, and services for your unique business needs.
Best of all, because all these features are integrated within the Cloudbeds platform, there's no need to switch between multiple software tools or deal with multiple vendors.
Find out how Cloudbeds can help you break free of manual front desk systems.
Published on 15 November, 2022 | Updated on 24 October, 2023